BEAM Plus Neighbourhood Assessment Tool
BEAM Plus Neighbourhood is designed to assess project performance of a development project and help project owners to incorporate a broader framework of urban sustainability principles at the early planning stage for subsequent project implementation.
The launching ceremony of BEAM Plus Neighbourhood Version 1.0 Assessment Tool was held on 6 December 2016.

You can register new projects through the Online Registration Form on HKGBC website: https://beamplus.secure.force.com/
Eligible premises are evaluated on the following criteria:
Community Aspects (CA);
Site Aspects (SA);
Materials And Waste Aspects (MWA);
Energy Aspects (EA);
Water Aspects (WA);
Outdoor Environmental Quality (OEQ); and
Innovation And Additions (IA)
BEAM Plus for Neighbourhood Version 1.0 (with Corrigendum No. 1 incorporated):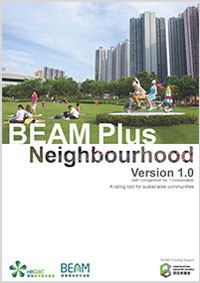 (2019. 01)
(Download PDF format)
Procedures Manual of BEAM Plus Neighbourhood:


BEAM Plus Neighbourhood Submission Template:



Project Information Fact Sheet
Associated Forms:
>Credits Interpretation Requests Form
>First Appeal Application Form
>Final Appeal Application Form
>Re-assessment Application Form
*Submission for BEAM Plus Assessment received after 12:00noon will be recorded and processed on the following working day.