e-Form

In order to maintain BEAM Plus assessment as a simple, transparent and standardised tool, BEAM Society Limited (BSL) is introducing the e-Form mechanism. The e-Form mechanism is a set of standardised submission-cum-calculation template that provides BEAM Plus Applicants with the necessary guidance in preparing the deliverable and calculations for BEAM Plus assessment.

For details on BSL's e-Form mechanism, please download an introductory powerpoint below.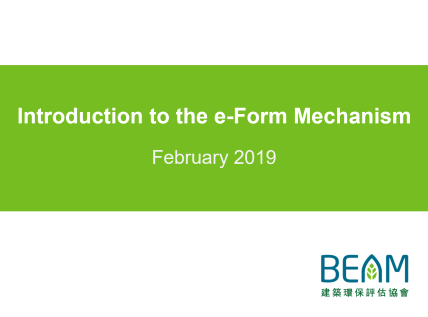 1. Launch of e-Form Website Portal
2. Batch 1 of the e-Form has been uploaded for evaluation. Please download the e-Form below and provide comments to this batch of e-Form by 24 February 2019.


Instruction: The e-Form for each individuals credit are allocated into batches. Please download the file notes below to allocate the e-Form for each individual credit.

Batch Number
List of Credits Involved
Release Date
Download

1

BEAM Plus NB v.1.2

General Form, SA P1, SA 2, SA 4, SA 7, MA P1, MA P2, MA P3, MA P4, MA 8, EU P1, EU 9, EU 10, WU P1, WU P2, WU 1, WU 5, IEQ P1, IEQ 9, IEQ 22, IEQ 23, IA

15 February 2019